SHEER® A Wardrobe Game-changer!
Meet SHEER®
SHEER® by Sheer Sebag is an apparel tech company based in Los Angeles, California, and solution to women's everyday pain-staking struggle with body image.
Meet the Lululemon of dresses, SHEER® is the World's first patent-pending, three-layer dress that combines the power of shapewear and compression garments all-in-one piece. Basically, imagine a form-fitted LBD (little black dress) that removes the need for women to wear shapewear products that are typically very uncomfortable, roll and pinch into your skin, can be seen, and just add extra bulk underneath.
Designed by a former SPANX executive designer, SHEER® dresses have a three-layer lining system built discreetly, within the dress – that work together to shape, lift, and tone your body – without adding the extra bulk of traditional shaping undergarments. Say #goodbye to shapewear and hello to your best body!
Our initial focus is on one product, the one item every woman has and needs a little black dress, but our vision for the company is a product line beyond little back dresses, moving to other everyday wardrobes "essentials" while integrating our unique technology, fit, quality, and style.
SHEER® pitch deck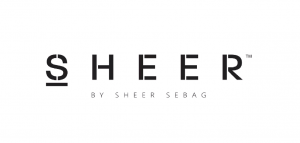 Meet the team building SHEER®
SHEER® was born out of the founder, Sheer Sebag's own struggles with her body image. As a successful twenty-something-year-old, Sheer found herself depressed, stressed out, and undervalued by her coworkers and significant other – and that had taken a toll on her body. In 2016, Sheer left her high-paying corporate job and dedicated herself to developing a solution for women experiencing body image issues – something she struggled with herself for many years – and truly understands firsthand. Two years later, she launched SHEER® – the first patent-pending three-layer dress to comfortably combine shapewear and clothing together in one piece. Today, Sheer is excited to share her dress with the world and her greater mission; to lift and empower women all around the world while providing them with a product that will give them hope, confidence, and a lot of self-love! Sheer hopes that her dresses not only help women look great, but feel great! According to her, this dress is "so much more than just a piece of clothing: it's a tool that combats self-hate, promotes inner confidence, and provides women with hope – no matter what shape, size, or body type."
Product Technician and advisor for SHEER®. Tosha brings more than 25 years of industry-related experience. A previous executive designer at SPANX and a current Chief Product Officer at Advanced Functional Fabrics of America (AFFOA), headquartered in Massachusetts Institute of Technology (MIT). Tosha is thrilled to be apart of SHEER®.
Learn more about SHEER®
Please visit SHEER® website.
Check out LinkedIn profiles of Sheer Sebag and Tosha Hays.