AnnaBis Designs And Sells Discreet Luxury Fashion Accessories To Sophisticated Cannabis Consumers
Meet AnnaBis
AnnaBis designs and sells discreet luxury fashion accessories to sophisticated cannabis consumers for personal, home and travel use.  The company launched in the $12B U.S. women's handbags and accessories category in 2015 and has since expanded to include men's accessories. We are revenue-generating with an experienced C-level team and have achieved significant brand awareness through 200+ media placements and partnerships.  Unique features of our accessories include odor-proof Aroma-Bloc Technology™, secret compartments, on-trend designs and soon will incorporate new fashion-tech innovations. Our products replace baggies, tea-tins, and shoeboxes, and help customers feel stylish, free and secure.
An enormous white space exists for sophisticated, discreet and functional accessories to carry and store cannabis in today's $8B cannabis industry which is expected to grow to $24B by 2024. The company plans to extend its brand into additional categories including home, travel, medical and athleisure, worth more than $200B U.S. Our Total Addressable Market is 128M US consumers and our Attainable Market is 35M who consume regularly and earn more than $75,000/annually.
As first movers, we have the unique opportunity to lead the luxury cannabis market with fashionable and functional accessories meeting the specialized needs of a huge installed, growing, and underserved customer base.  AnnaBis will track closely with the 30% CAGR projected for the cannabis industry over the next seven years.
AnnaBis pitch deck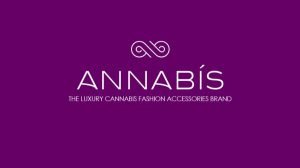 Meet the team building AnnaBis
Jeanine Moss is a branding and marketing expert who began her career in new product development for companies like Kraft Food and Seven-Up.  A trend-spotter and innovator, she created the first computerized horse buying and breeding registry, the first newsletter for women business travelers, the first tourism pass for New York City, the first Bring Your Parents to Work Day, and now the first luxury accessories for sophisticated cannabis consumers. She was VP tourism marketing for NYC, served as Senior Counselor for Communications at The September 11th Fund and Senior Advisor to the Undersecretary for Personnel & Readiness at the Department of Defense, and has experience in technology, advertising, publishing, content marketing, retail and as a journalist, editor, and publisher. After using medical marijuana to reduce her reliance on opiates after hip surgery, Jeanine became a fervent believer in its medicinal powers and is now a strong advocate.
Charles "Charlie" Fieramosca" is a leader and student of the fashion business with more than 25 years as a retail and wholesale executive managing product development domestically and internationally as well as performing as Chief Executive and in C-level roles for premier organizations. Charlie served 18 years at Macy's in senior-level merchandising positions and as Group Vice President of Product Development. He was President of Barneys American Sportswear Company and has extensive experience working with designer and fashion companies as a consultant in merchandising product development, and brand strategy.  As President of Bailey Banks and Biddle a $300mm luxury jewelry company, he was responsible for the restructure to profitability and the sale of the company.
Stephen Tortorici / Creative Director
Stephen Tortorici is a strategic, idea-focused creative leader in digital media, branding, website design, responsive design, apps, user experience, and online media.  He takes marketing efforts and brings them to life with exemplary user experience.
Judy Shapiro / Digital Content Marketer
Judy Shapiro's is characterized by her relentless pursuit of marketing momentum. Throughout her career, she consistently was first to explore leading-edge marketing practices, like championing integrating direct mail with in-store promotions and advertising. She created new branding models through her creation of "Judy Consumer" to bring the voice of the consumer to AT&T and her award-winning branding work for Lucent Technologies rewrote branding in its day. She then dedicated herself to understanding the latest in direct marketing and refining the marketing engine needed to launch new technologies in her work at Bell Labs New Ventures Group, CA and Comodo. For the last three years, Judy has been actively creating new ways to use social media as a coordinated marketing discipline.
Mark Leet / Photographer
Mark Leet started his photography career in high school, and has studied with Ansel Adams, was traveling photographer to Pope John Paul, and has photographed celebrities and business luminaries such as Muhammed Ali and Amdahl, the father of computers.  Mark specializes in portraits, lifestyle, and product photography and owns a studio in South San Francisco.
Advisory board:
Nicole DeMeo is an accomplished business launch, growth and turnaround expert. As a C-level contributor, go-to-market strategist, advisor and (occasional) impact investor, Nicole works closely with executive teams to guide strategy and growth. A Silicon Valley veteran, she has developed strategies and guided companies through multiple phases of their lifecycles for over 20 years. Her participation in over 50 company launches – including four of her
 own – created significantly increased valuations, acquisitions, and IPOs. Nicole has served as brand ambassador and marketing strategist for industry leaders such as Steve Jobs, Eric Schmidt, and Carly Fiorina.
Chris Foster has been a senior executive with C-level responsibilities for business development at Burson Marsteller and was recently tapped as President of the newly formed Burson Cohn Wolfe. He has headed marketing and communications divisions for companies such as Booz Allen, Fleishman-Hillard and other major communications firms.  Chris was a key player in the launch of Viagra and has particular expertise in U.S. healthcare practices as well as crisis communications.
Francis Priznar is an investor, business leader, and top-notch advisor. He has a long track record of experience building business and successfully helping government and private sector clients.
Francis authored or coauthored over 30 books and published articles on leadership, management, auditing, and risk management. He has started four businesses, bought three and sold one. He has helped create two nonprofit organizations and is an active board member with academic, nonprofit, business, and financial institutions.
Margot DeFrance – Financial Advisor
Margot combines equity capital market and healthcare operational experience, intersecting products and services, payments, and innovation funding.  She identifies and cultivates new business, and connects investors and large established firms with innovative companies, and innovative companies with partners and financing sources.  She is an expert translator of technical information and investor positioning having coached numerous executive teams for a deal and non-deal roadshow meetings.
Pamela Epstein – Attorney
Pamela is CEO of Green Wise Consulting, LLC, providing consulting services to clients in connection with cannabis business matters including providing advice on legal, regulatory and business issues, operations, business transactions, real estate, environmental, finances, compliance, community affairs, and employment issues. Pamela prepares, drafts and negotiates legal and business-related memoranda, documentation and contracts and engages in strategic lobbying efforts advocating for the continued advancement of clients' interests.
Chloe Bedenbaugh / Human Capital
Chloe Bedenbaugh is a Human Capital expert with expertise in complicated employee relations issues and transformational change, including growth, downsizing, and merger & acquisition. Chloe translates vision and strategy into effective operations. Influencer of decisions and actions. High-level talent acquisition, performance management, leadership, and management development. She is a relationship-builder who melds vast multi-level human capital knowledge with a service-oriented consultative outlook.
Learn more about AnnaBis
Web:  www.annabisstyle.com
FB:  https://www.facebook.com/annabistyle/
TW: https://twitter.com/AnnaBisStyle