Meet ABBY
ABBY is a new safe, advanced, affordable smart wheelchair for adults with reduced mobility.
Founders have bootstrapped ABBY from concept through production readiness.
Hardware (molds, tooling, frame jigs & PCBs masters) is done, and the company has met their unit economics target.
Software is 60% (all basic features are done; many advanced features are demonstrable; a 180-day software sprint is needed to finish up several of the advanced features).
The team has a rich software business roadmap. Basic ABBY can start shipping in 2024.
A six-week pre-launch campaign validated demand & product fit, generated dozens of pre-order deposits and ABBY has over 1,500 waitlist subscribers.
The first 30 units manufactured, are currently being deployed to selected early adopters as paid pilots to shake out any hardware issues under our proposed warranty terms and test the software in real-world conditions
Problem Definition
Manual wheelchairs have been popular for centuries because they are versatile, lightweight and inexpensive but they can be difficult to use independently.
Power Wheelchairs can weigh hundreds of pounds, cost tens of thousands of dollars & need minivans with ramps to transport and even today still lack smart technology like cameras & sensors for safety.
Mobility Scooters were created as an inexpensive alternative, but the three-wheeled ones are dangerously unstable, and anything with handlebars can't manoeuvre well indoors.
Only 2 million power chairs and mobility scooters were manufactured in 2020 for a global market of over 200 million adults with reduced mobility, and most were sold B2B as Medical Devices through 3rd party insurance payors. The status-quo B2B healthcare distribution model incentivizes the overpricing and underproduction of powered devices, leaving manual chairs as the sole option for the vast majority of people with reduced mobility.
Solution
Rather than create yet another cheap mobility scooter, ABBY is based on the traditional rear-wheeldrive wheelchair format and then it is updated with machine vision & IoT for increased safety, to extend the reach of family and caregivers. ABBY can even combat loneliness, unlocking its full potential.
Market
The overall wheelchair market is sustaining a 5% CAGR and is expected to be valued at ~$20B by 2030 but the power-add-on subcategory is forecasting a 10% CAGR and is the least dependent on third-party insurance coverage.
The global assistive mobility device market is currently $9B and is projected to grow to $20B by 2030 (comprised of $9.5B in power chairs + $4.5B in mobility scooters + $6B in manual chairs). Expressed in units that are 3.5M power chairs + 4.5M mobility scooters + 10.5M manual chairs.
ABBY is competitive with a subset of each category:
with respect to power chairs, based on the physical dependence of the end-user, ABBY is suitable for users on the lower end of the physical dependence spectrum i.e. para but not a quadriplegic disability;
with respect to mobility scooters, based on the home-use segment;
with respect to manual chairs, based on active chairs (non-sport, non-patient-transfer) home-use segments.
ABBY's estimated Serviceable Addressable Market (SAM) to be up to 8M units per year.
Competitive Advantages
ABBY's combination of price, business model, and the form factor with our industrial design innovations and advanced technology, allow ABBY to enter the market in a category in which the incumbent players have left a sizeable product gap. Connectivity will help us transcend hardware economics and deliver future product innovations to customers by subscription from the cloud.
Priced below $4,000, ABBY is around half the price of anything comparable yet offers significantly more advanced technology.
With modular batteries, you can carry a spare and recharge anywhere for a virtually unlimited range. Lighting, speakers, machine vision cameras and sensors help avoid obstacles to increase safety, let you see behind when backing up and enable remote control and hands-free robotic driving in certain situations.
The centuries-old rear-wheel-drive format with push handles and a folding frame makes ABBY portable and versatile. Quick-release components also enable DIY assembly and simple parts swapping shipments for service which is key for our streamlined DTC business model.
Smart Pushrim technology means the user can self-propel, self-propel with power-assist (just like pedal assist on an e-bike), or use the joystick. Therefore, ABBY is like having 3 chairs in one, AND this makes ABBY competitive with a set of premium-priced power-add-on solutions on the market today.
This set of features and unique competitive advantages will mean that many more manual chair buyers will be able to afford to become first-time power chair buyers without having to give up the versatility of the manual chair format or paying the $8,000+ for a quality chair with one of the power add-on solutions on the market today.
Business Model
ABBY will sell directly to consumers online positioning ABBY as a personal electric vehicle. ABBY will primarily rely on paid digital marketing and trade shows for brand awareness and lead generation. An FDA-cleared variant will also be produced for distribution as a medical device once ABBY obtains 510K clearance (outsourced to a single national provider).
The company will also pursue drop-ship e-commerce channel partnerships. Its operation in Shenzhen will assemble and ship full containers to a single combination warehouse/service center/showroom in the US from where the company will manage end-user deliveries, support and service.
Once the team has a working formula and operations are profitable in the US they will look at expanding into mature international wheelchair markets while expanding the software subscription business roadmap and product adjacencies including technology licensing.
ABBY Pitch Deck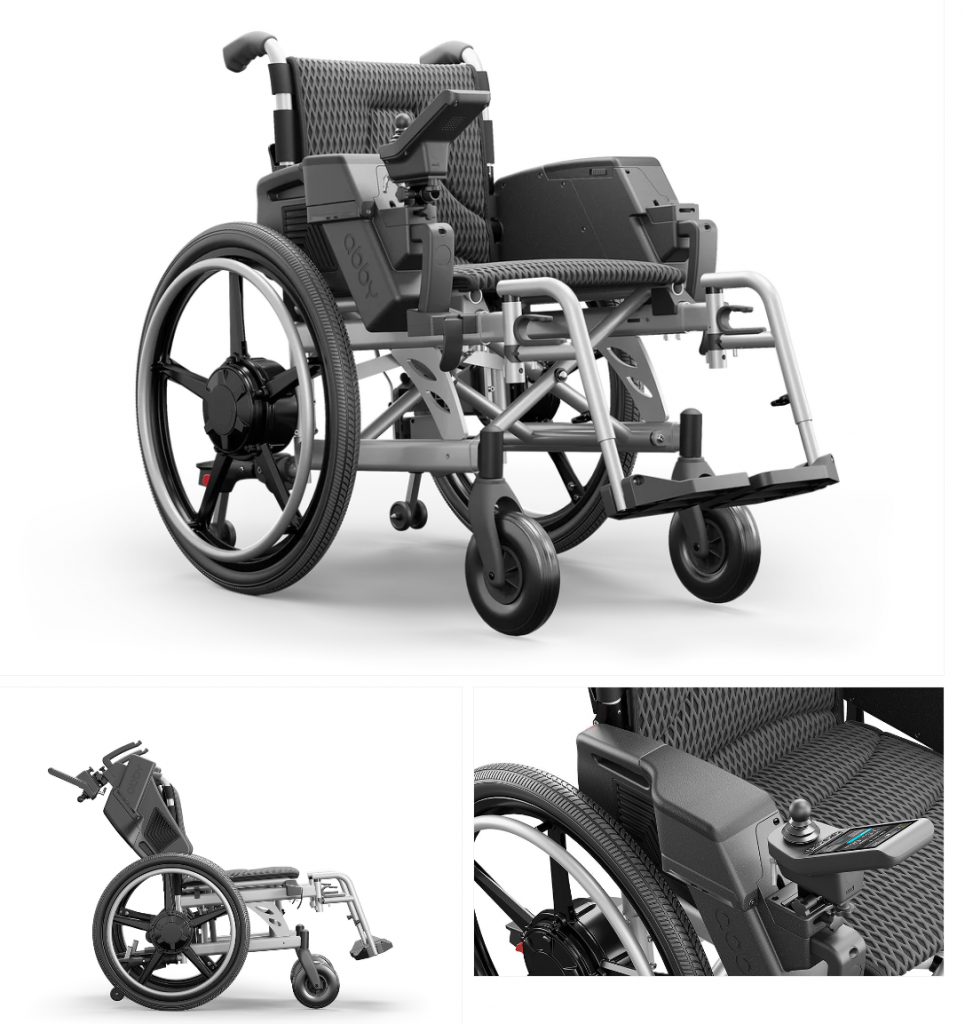 Meet The Team Building ABBY
Learn More About ABBY
VIDEOS
ABBY LINKS