Isla Aditi® Products Are Created To Bring Out The Feminine Beauty Of Women
Meet Isla Aditi®
Isla Aditi® is a revolutionary resort swimwear brand made for chic, modern women with an adventurous spirit and a bold sense of style. The collections blend the art and sophistication of traditional luxury with versatile, conscious designs. Taking inspiration from travel and architecture, the luxury bathing suits showcase hard lines and custom 12k gold plated hardware. The juxtaposition of rigid design elements with supple, luxurious textiles represents the feminine beauty of women and her enduring strength.
Fit and comfort are top priorities in product development. Seamless, edgy designs coupled with a supportive, four-way stretch beautifully accentuate feminine curves. Manufactured in the United States with careful attention to detail, to provide our customers with the highest quality resort bathing suits. Designed with premium Italian textiles, made primarily from regenerated nylons, fabrics resist pilling and damage from chlorine and creams while providing UV protection. Sustainable, eco-friendly swimsuits feature timeless, reversible designs, making Isla Aditi® bathing suits perfect for conscious resort wardrobes, taste-makers, and fashionable jet-setters.
Giving back to communities on local and global levels are an important part of the Isla Aditi® brand identity and as global citizens, empowering women and creating sustainable environments. A portion of our profits go to ComeUnity Now, supporting higher education for Maasai women in Kenya and providing sustainable, clean water sources in their rural communities. Additionally, we work with local beach communities to support healthy oceans.
How did it begin? From a passionate place. After enduring a life-altering experience, designer Jessica West traveled to the Caribbean and spent time on an island that ultimately changed her life. She was inspired by the people she met, pristine resorts, and the natural beauty of the island. During her time there, she developed a deep appreciation for women; their perseverance, and unwavering strength. When she returned to her Los Angeles home, she began creating the swimwear brand, Isla Aditi® to empower and inspire women, celebrating their unique beauty and strength.
What's in a name? Isla comes from the island inspiration and Aditi represents the spirit of the brand: Be adventurous, boldly inspired, and empowered to live Boundless & Free®.
Isla Aditi® pitch deck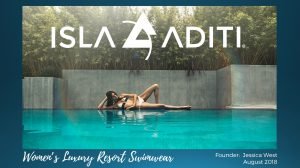 Meet the team building Isla Aditi®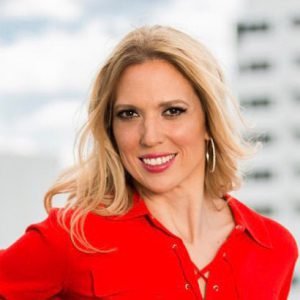 Jessica West is an entrepreneur, fashion designer, speaker, red carpet host, writer, and director of all things creative. She is the founder and creative director of the luxury swimwear brand, Isla Aditi. Her personal desire for new adventure and love of travel took her on a global journey and led her to the captivating, culturally rich, tropical island of St. Lucia. There she was inspired by the beauty of the island, pristine resorts, and people she met who gave her new insights and perspectives during a transitional time in her life.
When she returned to her California home, she dedicated herself to the creation of a conscious, eco-friendly resort swimwear brand with the sole purpose of empowering women. The name "Isla" refers to the island inspiration and "Aditi" is a goddess with an unbounded spirit. This embodies the spirit of the brand and Jessica's vision to create a community built on feminine strength and power, where every woman is a goddess. She combined her experiences with inspirations from architecture, incorporating hard lines and gold-plated hardware. The juxtaposition of rigid design elements with supple luxurious textiles represents the feminine beauty of women and her enduring strength.
Her unique collections have graced runways and major swimwear shows across the United States. Jessica wanted the impact of her collections to reach far beyond the catwalk so, she partnered with the non-profit, Come Unity Now to provide clean water and education for women in the rural Maasai communities of Kenya. In addition to running her fashion brand, Jessica hosts a fashion lifestyle television show, where she interviews creative talent from around the world on internationally acclaimed red carpets.
As a female entrepreneur, single mom of daughters, and career-focused on and dedicated to women, Jessica hears countless stories from women around the world about their struggles, triumphs, confidence and body image issues. Blending her innovative talents as a creative director and designer with her background in the financial industry, Jessica is skilled at helping women excel professionally and in their personal lives. She is a speaker, consultant, and mentor for women; inspiring them to design their lives for sustainable success.
Jessica holds a Bachelor of Science degree in Apparel Merchandising and Management from California State Polytechnic University. She is currently writing the Isla Aditi lifestyle blog, and an inspirational memoir about her personal journey to be released in February 2019. Jessica lives in the coastal California city of Manhattan Beach with her two daughters, Lauren and Audrey, ages 14 and 8. Together they enjoy time in the sun, seeking out new adventures at home and around the globe, embracing the boundless and free spirit of Isla Aditi. Be adventurous, boldly inspired, and empowered to live boundless & free.
Learn more about Isla Aditi®
Website: www.islaaditi.com
Instagram: www.instagram.com/islaaditi
Facebook: www.facebook.com/islaaditi
YouTube: https://www.youtube.com/channel/UCQbJkCGxVkIb6Xv_PMYdEjQ