Meet UXV
UXV (Universal eXperience Ventures LLC) offers a software-based solution to make driving a safer place and protect people on the road.
The Problem
Current multimedia software solutions offer complex steps, too many screens, and multiple interaction buttons. This is
confusing, distracting, and time-consuming for day-to-day use.
The Solution
Simple and easy-to-use software application with friendly user interface for call management, navigation, and entertainment, yet extremely powerful, feature set rich and personal. Something that will not put you at risk while using it as you drive, and you will enjoy using it at home with minimum time to learn how to use it.
The software solution will be offered in two tiers – free and paid premium versions. The architecture allows for 3rd party add-on modules, which will enable the software development community to ump on the platform and help extend it.
What makes the system unique is the ease of use, universal & functional infotainment experience, patented technology, incident alerts and reporting capabilities, personalized experience, parental mode & driving habits monitoring, integration with strategic partners organizations.
Ivo and his software team see potential customers as parents of young drivers. His team is targeting to acquire a substantial paid user base by offering a free version and working on offering high-quality and premium features that will make about 30% of the free customers convert to paying customers.
UXV is also working on establishing strategic partnerships with insurance companies and government entities.
UXV Pitch Deck
UXV Executive Summary
Meet The Team Building UXV
Ivo has started his 25-year professional career as a software developer, later transitioned and established himself as Enterprise Technology Architect and experienced Network Engineer specializing in Business Continuity and Disaster Recovery planning and procedures. He has expert-level knowledge for the design and implementation of Enterprise level messaging using Microsoft Exchange and is well versed in building complex network infrastructures using Microsoft Windows Server Active Directory. Ivo's passion in the professional world today is everything around mobility and communications, and this is how the idea for this company was born. Ivo's personal time is divided between his family, sports, and his Hi-Fi audio vintage electronics collection, which he proudly shares and continues to grow.
Yana has graduated from the Jewish Lauder School in Sofia in 2017 with special classes and specialization for five years in digital design and media. Yana has spent three years studying as a bachelor in Graphic design and Advertising at New Bulgarian University for two years. Her greatest professional success so far is the first place in Bulgaria Innovation Hackaton 2020. Yana has participated in several Advertising Academies and seminars. At the last Academy in 2020, she won first place again. Yana is still a student and in her free time, she likes to spend time with her friends and family, she loves to travel, paint, and discover new places.
Nicky is a digital strategy expert, a thought leader, a problem solver, a collector of futuristic curiosities, and innovative ideas. His work ranges from strategic planning and rough prototyping in the early stages, to creating strong full-fledged long-term digital marketing strategies focused on business growth. Nicky has experience working for companies like Nestle, building inbound marketing strategies that have acquired B2B clients like Etsy.com, and consulting 100 million dollar companies in the US, UK, and European markets. Today Nicky is mainly focused on helping growing founder-led mission-focused, digital-first businesses that want to grow.
Advisors
George brings 30 years of professional experience as CTO in various companies. He was CTO at WebMessenger where he oversaw 120 developers spread over 5 countries and managed all of the key projects. After the WebMessenger exit in 2008, George went to CallWave (now FuzeBox) to continue his managerial duties. He is in charge of overseeing development projects and selecting new talent for VoiVoda. Currently, George works as a Product Manager at Cisco, but he is involved in advising many startups and mentoring their progress. In his personal time, George loves to work on his collection of vintage radios and Hi-Fi audio equipment, troubleshoot problems, and building the perfect audio set for his home.
Micro-electronics (Dipl. Ing. Prague CVUT); Computer Science (Ph.D. UCLA); Neuroscience (Ph.D. UCLA)
Research Interests:
Clinical information systems (CIS); Clinical trials; Imaging (MR, PET); Artificial Neural Networks (ANN); Artificial Intelligence (AI); Natural Language Processing (NLP); Automatic Speech Recognition (ASR); Air Traffic Control (ATC); Wearable electronics;
App development (iOS, Android)
Founder:
Brainventions Corporation, Inc. (1991);
Global Care Quest, Inc. (2002);
VAL9000, Inc. (2013)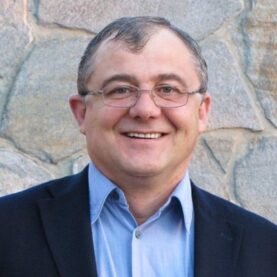 Serial entrepreneur and venture capitalist coming from a background of more than thirty-five years of software development and business management experience. Active early-stage investor and member of Band of Angels, Sand Hill Angels, Keiretsu Forum, Tech Coast Angels, and Pasadena Angels. He is currently the lead investor and chairman of the board of VideoEngager. Val is also the founder of VoiVoda Ventures and the only financier in the fund with proceeds from the exits of his software companies including Webmessenger.