Concurrent Productions team will create your startup high-end pitch video
Meet Concurrent Productions
Concurrent Productions creates startup pitch videos for companies with passionate founders. These are not animated explainer videos. We know what those are. Our unscripted startup pitch videos aren't really a thing. Yet. And it's a little hard to describe, so why not watch our video and ask yourself: Do I trust these people? Please go ahead: https://concurrentproductions.com.
Welcome back! We believe that video, with its unique power to convey authentic emotion, is too powerful to waste on information. That's why we create brand videos that connect viscerally – through beliefs, values, and passions.
The story of a company is the story of a person. Investors often say: "You don't bet on the horse, you bet on the rider." Investors want to know you are committed to the job if pivot – they are investing in your idea yes, but also in you. And that investment undeniably has an emotional component.
Along with your pitch deck, financials, and a stellar product, we help you tell the story of you, answering the question for investors: Can I trust you?
Video is an incredibly effective way to leverage the strongest differentiator any business has: the passion and personality of its leader.
Brand video production (the way we do it) is an intimate process designed to communicate a deeply personal story to investors who are attuned to recognizing authenticity.
We're kind, passionate, open-minded people who delight in the opportunity to truly understand an entrepreneur's emotional core and share it with the world through our own lens of love and veneration.
You have a very innovative product. You have materials describing your very innovative products and services. Our videos are not about your innovative products and services – they are about why and why you?
We realize not everyone thinks this way, but many of your potential investors do and if you're not (yet), you're missing out on long-term partnerships with the most deeply invested investors you can attract.
Services
Full-service video production packages – everything you need from the professional audio, cinema-quality footage, and editing. Easy, turn-key, high-quality production for the best version of yourself.
Bootstrapped? Check out our low-cost DIY video e-course: https://concurrentproductions.com/ecourse/
Use code: STARTUPBRITE for a 10% discount!
Meet the team working at Concurrent Productions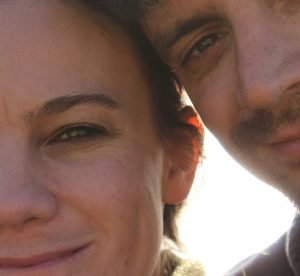 In the same way, we use the video production process to encourage our clients to look inward and infuse their business stories with their personal values and beliefs, Concurrent Productions is a reflection of the human beings we are and are becoming, every day.
Being our client comes with the implicit guarantee that you'll get the best version of us we know how to deliver so far. We promise to learn and grow from our interaction with you and to use that wisdom to the benefit of all our future relationships, business and personal.
We are Jeff and Kerri Feazell, a married couple who has teamed up to collaborate with each other and with you. We've been working in nearly all capacities of independent film production since 2012 and continue to work on writing and directing our own work along with the unscripted stories we tell—concurrently—with you.
You're an innovator with a mission and we have gratitude for you and the fact that you are most likely risking everything to evolve the world. Here we are, on this ride around the sun together.  Thank you.
Learn more about Concurrent Productions
Please visit Concurrent Production website to learn more about their work and services.
Don't forget to check out their video e-course and take advantage of the discount they offer to the StartupBrite audience! Use STARTUPBRITE to get 10% off.